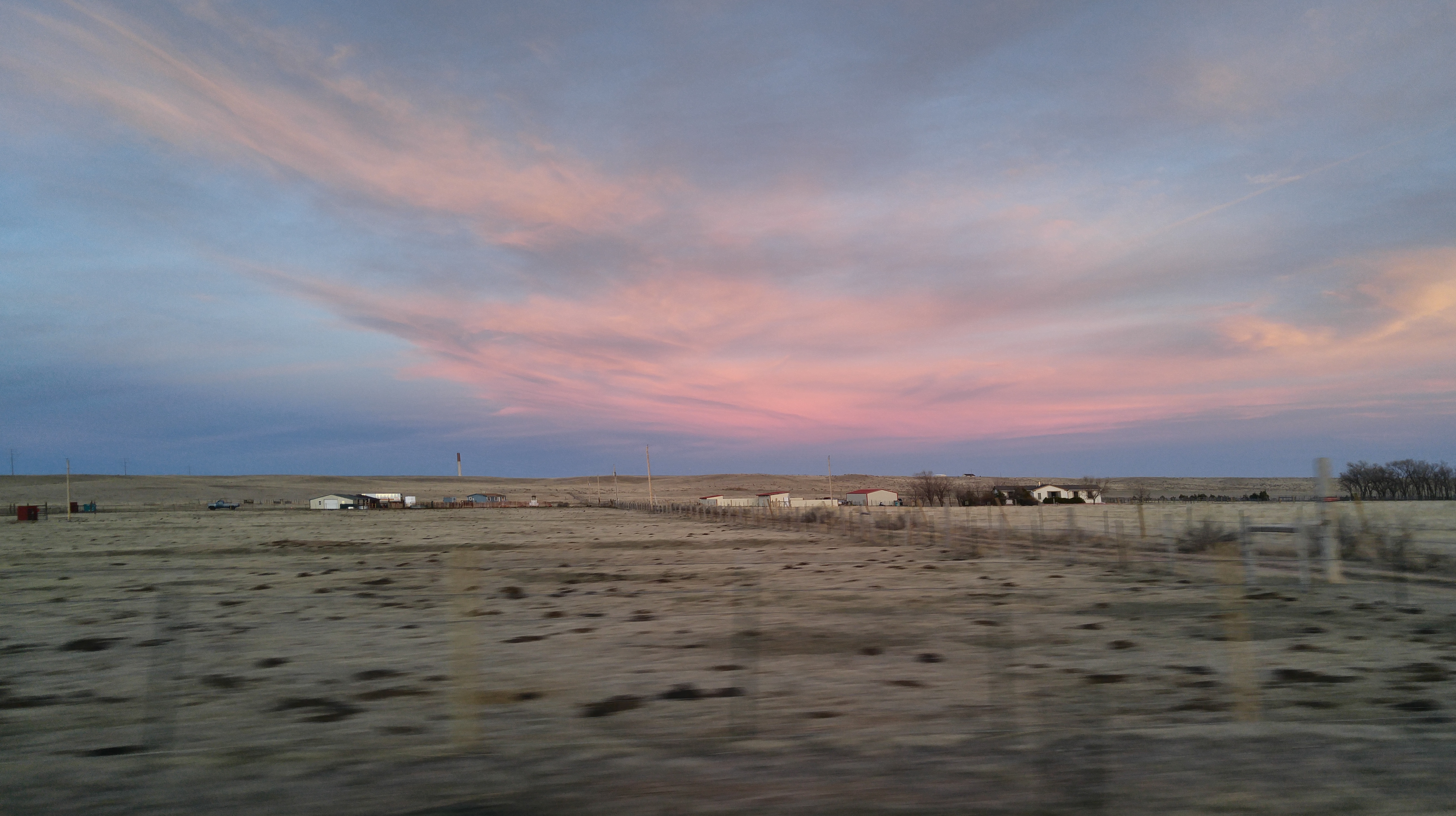 North of Fort Collins, Colorado.
One evening in early April I stood outside Nix Farm, headquarters for the Fort Collins Natural Areas Department. I met Mathew, the crew leader for this night's adventure, as well as Jessie and Alethea who joined us as volunteers. Both students were pursuing minors in Conservation Biology at Colorado State University. We had all gathered for one purpose – to search for the elusive black-footed ferrets at Soapstone Prairie Natural Area.
Once the most endangered mammal in the United States, black-footed ferrets were believed to be extinct until a Wyoming rancher discovered a few dozen ferrets on his property in 1981. Population monitoring continued until the mid 1980's, when researchers realized the ferrets were dying of disease, which spurred the collection of the surviving 18 animals into a captive breeding program at the National Black-footed Ferret Conservation Center. There are currently over 500 individual ferrets alive in breeding programs, and the lucky few are being released back into the wild.
Black-footed ferrets need a large habitat filled with their main prey source – prairie dogs. These nocturnal predators can take down the much larger prey, by hunting at night while the prairie dogs sleep in their dens below ground. These solitary creatures have been known to guard about 100 acres of prairie for their territory.
There is a long permitting process to reintroduce ferrets onto the landscape that is usually tackled by the US Fish and Wildlife Service. The City of Fort Collins broke new ground in their work with endangered species as a local government agency to take lead in the of reintroduction project. This concept was so unconventional that it needed a law signed by Colorado's Governor that allowed cities and counties to conduct endangered species recovery efforts. Working closely with state and federal wildlife agencies, in 2014 the City released 15 ferrets in part to restore Soapstone Prairie to its former ecological balance. Soapstone Prairie Natural Area is a nearly pristine shortgrass prairie landscape roughly 25 miles north of Fort Collins that is open to the public and managed for conservation purposes. This natural area is where I will be spending much of my time this summer.
Group photo before field work begins
We piled into the truck and left town at 7pm, swapping stories of where we came from, how we got here, and where we hoped to go as we bumped along the dirt roads towards Soapstone Prairie. Excitement sparked electric through the car as we spotted a lone Sandhill Crane silhouetted against a fading sunset. That's an endangered species success story for another day. Meadowlarks perched on power lines, rabbits dashed across the road, and we spooked a nighthawk from its roost at the visitor entrance.
Under cover of darkness by the maintenance shed that became our home base for the night, Mathew explained how to use the equipment and the protocol for our search.  Armed with a flood light, large battery, radio, jackets, and coffee, we spread out and walked across the prairie dog colonies where the ferrets had been released two years ago. Fighting against 20 mph sustained winds for much of the night, our lights scanned over prairie dog mounds and shrubs. For hours we saw nothing but the red eye shine of rabbits and mice in the dark. The howling wind deafened all other noise, relentlessly pushing us eastwards.
At one point I caught the green eye shine of a badger in my floodlight. Recognized by its eye color and gauging how low its head was to the ground, I followed it down a drainage, watching it slowly amble and stopping every few feet to watch me, before it ducked out of sight. At 1:00am we took an hour break in the heat-less shed to set up camp cots and burrow into sleeping bags for a nap, and brewed a fresh pot of hot coffee to sustain us through the morning. We hiked for another three hours in the dark, and still we could not find any black footed ferrets. Either they were hunkered down securely in their dens sheltered from the wind, or they were no longer at these prairie dog colonies. This is the glamour of field work in natural resources, uncertainty and harsh field conditions made the complete experience.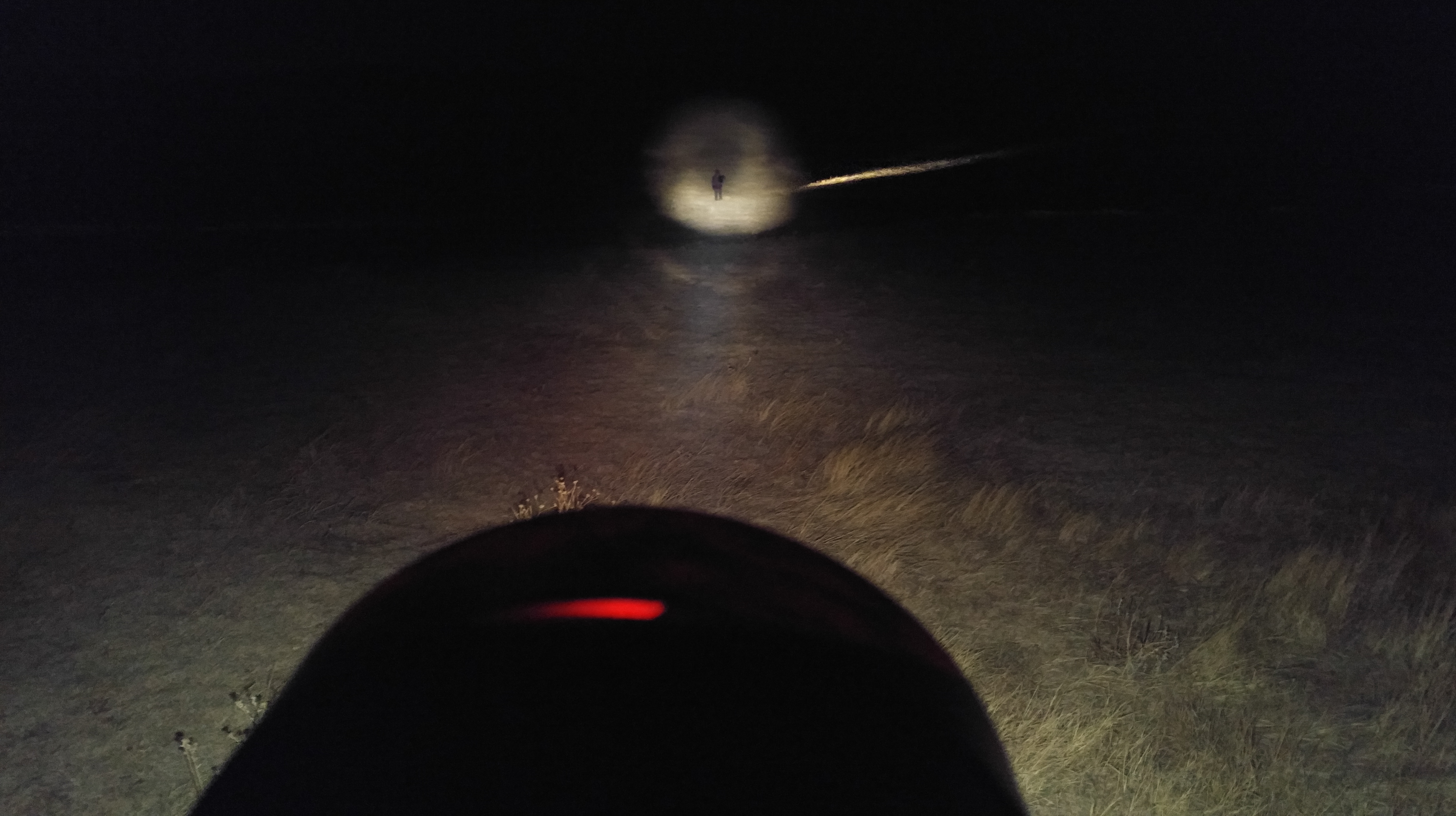 Shadow of my colleague in the light
Although we hiked for eight hours without spotting a ferret, there is immense value in the data we collected. Most people don't fully appreciate the power of "zero" in data collection. It is important for scientists to know when an animal is seen or not seen to better understand search efforts, which could help determine whether the search is impacted by weather conditions (such as high winds), or perhaps the animals are no longer in that area. I reflected on this at 5:00 in the morning, attempting to encourage myself as we begrudgingly made our way back to the truck. My floodlight's battery had faded and died, and so I used a camp headlamp to navigate the holes and brush scattered across the prairie.
Then, fifty yards from the truck, Mathew caught a glimpse of green eye shine with his light – a black-footed ferret! Invigorated, we rushed to the hole and set up the ring transponder to read whether this ferret had been previously tagged or if it was a new kit from last year's litter. We all were treated to a close up look at this female ferret which had been previously caught and tagged to identify her.
Black-footed ferret photo taken by volunteer

This transponder ring goes around the hole, so that it can read the ferret's pit tag if it's been captured previously.
Tired and sandblasted, we drove back to town in quiet chatter while a couple of us drifted to sleep. We watched the sun rise and complimented ourselves on a good night's work.
Sleepy but satisfied after an all-night field trip
Websites:
http://www.fcgov.com/naturalareas/bff.php
https://en.wikipedia.org/wiki/Black-footed_ferret